Else Cilley Chapter History
Cilley Log Cabin Site

New Hampshire State Conference

Longfellow Garrison Marker

DAR Good Citizen

Cilley Monument

Chapter Meeting
Else Cilley
In 1898, Elizabeth Williams Cilley joined the DAR as a member of Derry's Molly Reid Chapter. That summer, she interested some of her relatives to consider forming a chapter in Nottingham, New Hampshire.
On August 22, 1898, Elizabeth hosted ten ladies at her home in Nottingham Square, where the invited guest was New Hampshire State Regent Georgia Butters Drake Carpenter. Mrs. Carpenter told about the DAR and the work of the society; thus, they were duly organized as a chapter.
Selecting a name for the new chapter seemed quite obvious, as all twelve of the founding members descended from the same maternal ancestor, Else Cilley.
Alice "Else" Rawlins was born in 1701 in Salisbury, Massachusetts, to Benjamin Rawlins, Sr. and Sarah Palmer. In 1724, she married Captain Joseph Cilley, and the family was one of the earliest settlers of Nottingham, New Hampshire about 1727.
Captain Joseph Cilley was the agent for the proprietors of the New Hampshire Grant in Nottingham.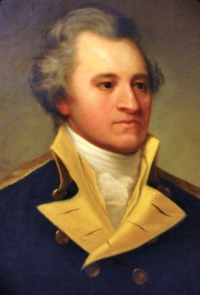 The Cilleys initially built a log cabin on Rattlesnake Hill, and later, constructed a larger home nearby. The couple had six children; sons General Joseph Cilley (at right) and Captain Cutting Cilley served in the Revolutionary War. General Cilley led a company of men from Nottingham Square to Cambridge Common in response to 1775's Lexington Alarm. Two of their grandsons also served as soldiers.
The Cilleys were highly regarded in Nottingham and are described in great detail in the Rev. Elliott C. Cogswell's History of Nottingham, Deerfield, and Northwood (1878). Captain Cilley was regarded as a man of "great cheerfulness and generous hospitality, as well as remarkable fearlessness in danger."
Else is described as a "strong, vigorous, healthy woman, of more than ordinary weight, yet quick of step, strong of will, and methodical in her household arrangements. Her home, whether a log cabin or a house two stories high with 'gable windows' was a model of neatness and order from 'turret to foundation stone.' During her life, she drank neither tea nor coffee, nor tasted the intoxicating bowl, nor smoked the ugly pipe, nor snuffed the yellow poison."
Her refusal for tea was especially important during the British tax on tea. Else demonstrated her patriotism by saying, "I am not going to the East Indies for any part of my breakfast."
She was reported as being skillful at designing quilt patterns and her handiwork was sought out amongst the locals. In the year before her death, she rode the Pawtuckaway Mountain on horseback to design a floral pattern quilt for her granddaughter. Else Cilley died in 1801 at age one hundred.
Thus the chapter name was decided. But there was one issue.
How did Mrs. Cilley spell her name? Her name was Alice, but was she called Elsie? And if Elsie, was it spelled Elsie, Elsa, or Else? It was finally decided that the chapter would be Elsa Cilley, but, sometime later the name was changed to Else as it stands today.
---
Charter Members
| | |
| --- | --- |
| Elizabeth Ann Bartlett | Jenny Neally Bartlett |
| Mary Blaisdell Bartlett | Elizabeth Barber Batchelder |
| Sarah Bartlett Brainard | Jane Cilley Burley |
| Harriet Amsden Butler | Elizabeth Williams Cilley |
| Mary Butler Cilley | Laura A. Marston |
| Amanda Stevens | Mary True Taylor |
---
Our Former Regents
| | |
| --- | --- |
| Elizabeth W. Cilley | 1898-1901 |
| Mary True Taylor | 1901-1903 |
| Jenny Nealley Bartlett Grinnell | 1903-1904 |
| Laura A. Marston | 1904-1907 |
| Mary Butler Cilley | 1907-1918 |
| Elizabeth W. Cilley Fernald | 1918-1948 |
| Elizabeth C. Fernald | 1948-1953 |
| Annie Cilley Giles | 1953-1955 |
| Bertha A. Trickey | 1955-1957 |
| Evelyn Varney Price | 1957-1961 |
| Louise Richardson Sawyer | 1961-1963 |
| Barbara Louise Guptill | 1963-1965 |
| Mary Louise Fernald | 1965-1968 |
| Norma Clark Perkins | 1968-1971 |
| Barbara Brown Marden | 1971-1974 |
| Martha Caswell Bennett | 1974-1976 |
| Sarah Potts Voll | 1976-1980 |
| Irene Harvey Scribner | 1980-1983 |
| Deanna Perkins Rush | 1983-1986 |
| Eleanor Hutchinson Ambrose | 1986-1989 |
| Alice White Kent | 1989-1992 |
| Lynne Perkins Sweet | 1992-1995 |
| Deborah Fernald Stevens | 1995-1999 |
| Eleanor Hutchinson Ambrose | 1999-2001 |
| Barbara Evelyn Jones Frangione | 2001-2007 |
| Jan Hetu Gilman | 2007-2013 |
| Nancy Hetu Gervino | 2013-2016 |
---
Real Daughter
The chapter is also proud to have a Real Daughter. A Real Daughter is distinguished because she was the daughter of a Revolutionary War patriot, who became a member of the DAR after it was founded in 1890. New Hampshire is home to twenty-eight Real Daughters, one of who was Maria M. Wilder Ragan.
Maria Wilder was born in Woodstock, Vermont, on August 3, 1817, to Jacob Wilder and Mary Wakefield Wilder. She lived in Chicago, Illinois, in 1896 at the time she applied for membership to the DAR. She later transferred to the Else Cilley Chapter. Maria died on December 28, 1908, and is buried in nearby Durham, New Hampshire.